So 2014 is finally over, and I say finally because it's been one hell of year!
I've moved house several times, found an amazing job and finally have my feet on the ground; along with 4 wheels! So much has gone on that I don't think it is possible to remember it all and write it down.
So with this in mind, I would definitely say things have changed for me in terms of how I approach the craft work that I do. My job is pretty intense some days, and I've found now what it's like to be mentally tired - certainly something I never experienced in my education or any of my previous work.
Here's a gratuitous picture of me; I got to go to Southampton University to tell their graduates about my work and encourage them to consider a similar career.
A promise I made to myself when I decided to take up crafting again a few years ago, was to only tackle one project at a time. I swore that I wouldn't become one of those people with a wealth of uncompleted projects or UFOs (Unfinished Objects). Alas, that wasn't to be and I found this year that certain projects took priority or I just lost steam over certain things. I certainly started a lot of projects this year just for the sheer hell of it - Crafter's prerogative!
I thought I'd do a round up of all the UFOs I have in my stash right now...but because I don't want to actually consider this projects abandoned, I am going to call them "Works in Progress" instead and set a deadline for each of them.
First is a project that I've got to finish and frame before June. It's the Canada sampler by Stitchrovia, and it should look a little something like this: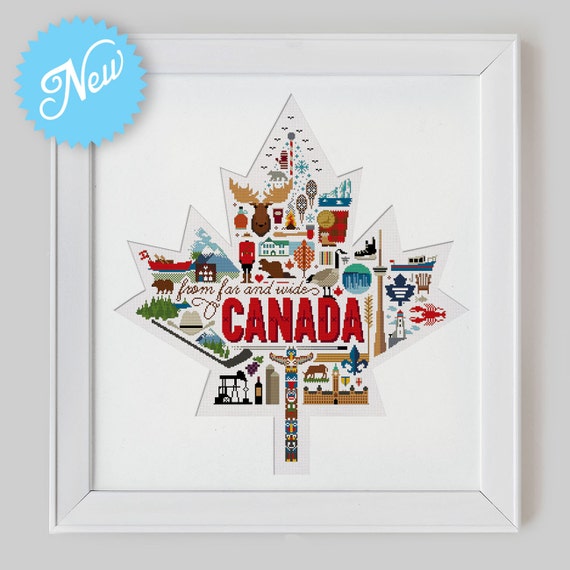 However, I quickly lost steam with this project. The issues being is that the pattern doesn't index its colours, there's no reference on the gridding to differentiate two different reds or blues for example. So here's my progress:
This project is intended for two of my friends who are getting married in June, so really I need to start making headway with this project pretty soon. It's so large, that transporting it once framed is a concern for me. I just hope this doesn't become a real hard slog to get finished.
Next is a little space scene that I started in October as I'd seen someone I follow on Instagram complete it and frame it - so I decided to copy her because it was just so perfect. To say otherwise would be a crime and I just couldn't think of a way to improve it myself.
So credit to the lovely Erika Glover for her impeccable taste in framing and great work, here's a little pic of her work that I took a screen shot of:
The pattern is from a great designer on Etsy - Her shop is called Clouds Factory and you'll find a wealth of wicked little patterns in her shop. I'll be doing a feature on her work soon.
Anyway, this is what it should look like: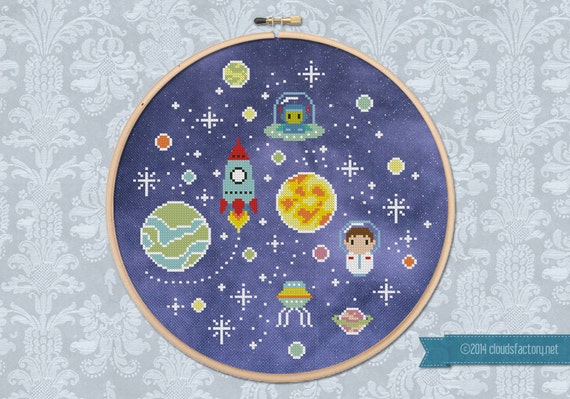 And this is how far I got:
This project came to a halt as I noticed I'd miscounted somewhere - but haven't been able to find out where! So, out of frustration I put it to one side and have said I'll come back to it. However, after rage quitting this project, I found myself settled back into completing a crocheted blanket I began over the summer. This little project is for my god-son, and I want to get it finished before his 5th birthday in October - but preferably before then!
Finally, is a tapestry kit I bought myself just before christmas as a gift to myself. It's by a great local company called Pearl and Earl - Another little company I'll be doing a feature on in the near future. The designer herself; Jacqui Pearce did a great book called Supersized Stitched (Check it out on amazon here.)
Anyway, I was fortunate enough to catch this kit in their black friday sale. Tapestry kits are notoriously expensive and I'd been wanting to have a go at it for a while. Here's what it should look like:
Isn't it fab? Jacqui has done a whole collection of "Tuck Shop" favourites and they're all absolutely wicked!
This is my current progress on this project:
I don't feel too bad about the lack of progress on this project, as it's only been something I've been stitching on the train or when ever I've had a long wait somewhere or no internet. And it's only been barely a month since I began! I think my two main concerns are how sore stitching with wool makes my hands and also, how on earth I transform it from canvas into a pillow! Eeek!
I fully intend to get these projects completed in 2015, and of course many others!
What strikes me immediately when reading this post of mine, is how lack-lustre things look right now. I guess you forget how wonderful your work looks finished when you've let projects go untouched and uncompleted for so long.
What does your WIP pile look like?