Satsuma Street; the gorgeous shop run by the delightful Jody Rice, is one of the shops that really sparked my return to cross stitching. I think she's been somewhat of a driving force for the revival of cross stitch, she's made it cool, modern and most importantly, relatable.
I've featured her work before when I showcased her
Biscornus
and the
Nelson Mandela quote
I did for my best friend's graduation, but this time I really want to share the catalogue of her wonderful work.
Her patterns have always captured my imagination, and her Pretty Little City series has absolutely given me thirst to travel. Whats remarkable about the imagery of her work, is that it's instantly recognisable, you know which town it is from first glance. Through fabric and thread, Jody has captured the iconography of each chosen city...And you know, if ever you visited Tokyo or Barcelona, you'd be sad that it wasn't as colourful as they are in the pictures she's created.
And here they are:
They're all so amazing and priced at £3.82 each, they also all fit into 10 inch hoops. They're usually around 6.5 inches wide by 6 inches tall on 18 count fabric. I spent sometime over the last two years doing my own Tokyo on a beautiful blue 14 count fabric. I also did San Francisco for a dear friend of mine on 18 count, and the size difference is incredible! 18 count is enough to make you blind! Here's mine:
San Francisco! (This is off to the framers this week!)
I absolutely love this pattern, and in its finished form it's 11"x6.5" on 14 count aida. I can imagine this as a wicked wall hanging or framed in something really dark, but how can you not love the cushion Jody turned this into? It's priced at a princely £3.82 and is available (like all her patterns) to download instantly in PDF format.
If you couldn't tell, I'm a huge Satsuma Street fan and if like me you can't decide which pattern to buy first, she does a great offer of 3 city patterns for just under £10 here.
Oh and did any one notice that christmas is coming?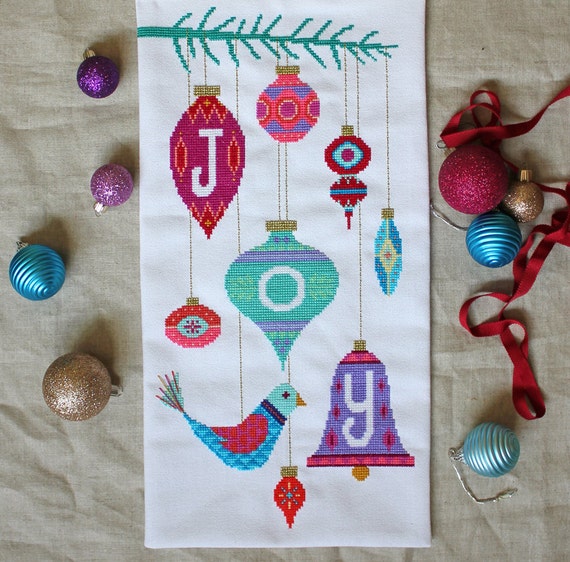 This gorgeous Joy pattern is so beautifully retro and would be gorgeous as a wall hanging! On 14 count aida, this is a large project at 18 inches tall by 8 inches wide. Beware the metallic thread though, it's worth the extra effort! You'll find the Joy pattern here, again for £3.82!
Christmas ornaments were also on the list this year for Satsuma street! :)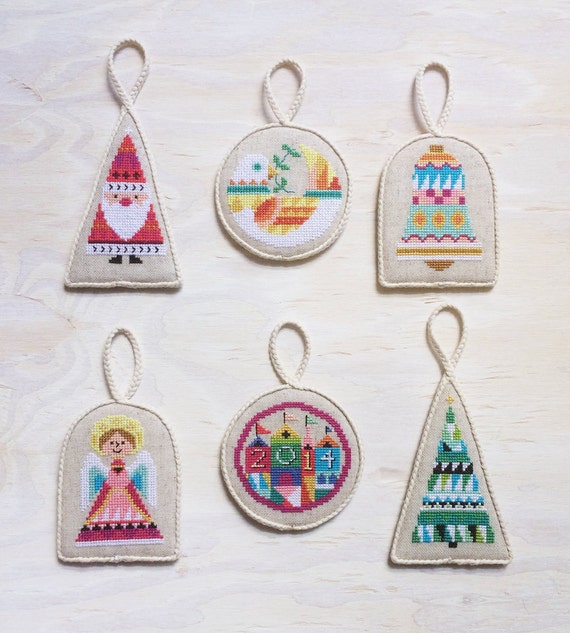 6 of them in varying sizes between 3 and 6 inches, available here for £3.82 (or $5 in green money).
The thing I love about the Satsuma Street patterns is how consistent they are, in style, in quality and in price. Her work is so easily accessible, and simple to follow. The patterns are laid out in a clear and concise way and if you've never stitched before - they're somewhere good to start!
If you've got instagram too, check her out @Craftnik - There's always a cheeky photo of her two cats Stoli and Mal, and she's terrible for sneak peaks of her up and coming work!
Happy Stitching everyone! ^_^