I'm super proud to say that one of my best friends graduated from university this month, and I wanted to mark the occasion with a gift as not only for congratulatory reasons, but a house warming; to hang in his new home which has been a long awaited and hard worked for goal.
I decided upon one of my favourite patterns from Jody Rice's Etsy store Satsuma Street.
It's a wonderful quote from the late Nelson Mandela: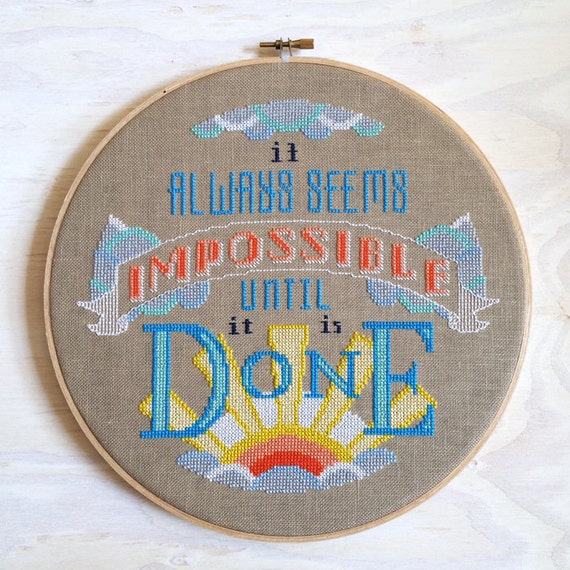 It retails for £3.61 and the finished piece is 8.5 inches tall by 9 inches wide. Jody stitched it on to a beautiful piece of rustic style linen and displayed it in a 10 inch hoop. It's to die for isn't it?
I decided to go for a different style with it though, and wants to emphasise the colours in the pattern.
So I chose a 14 count piece of Aida in a very pale grey, almost baby blue colour. I also changed the white detailing around "Impossible" for navy blue to make it stand out a bit more on my fabric. That being said though, the true colour of the fabric was almost impossible to photograph - much like the glitter fabric I used for the wedding sampler I did.
Anywho, here are my progress photos:
This project over all I would say took me about 30 hours, and the blackwork I really enjoyed doing. I didn't do the shading on the back of the word "Impossible", I felt if I used the navy thread for the banner to do that, it would be a little overbearing and would darken it too much. The pattern was so simple to read, and Jody has such a great way of displaying the pattern. It's so convenient as a PDF that I can just read from my iPad. The key is clear and consistent and you can download it straight away from her Etsy store.
Next, came the task of framing! I've never framed anything before, and Doncaster is definitely lacking a good framer. I was really unhappy with the work that was done with my wedding sampler from the local one that is here.
So I decided to do it myself this time, I ordered a custom mount from a shop online (which was surprisingly easy to do) and I was totally petrified the colour of it would be wrong or I'd measured wrong. My uncle peter always tells me "Measure twice - Cut once" - I measured repeatedly and I was lucky! It turned up and although the card stock was a lot darker than it showed online, it was still a great contrast to the work.
It was billed as Sky Blue, but the place where I ordered it from gave me Sil Blue instead. What a lucky mistake! If you're interested in custom cut mounts though, definitely check these guys out at Merlin Mounts - this mount was 12" by 12" on the outside, and the hole was 10" around. It cost me a princely £2.40! So, I was hugely happy with that and it came by normal post. Massive thank you to the lovely people at Merlin Mounts.
Next I had to actually stretch my work. This was probably the most daunting task of all of it, as there are so many different techniques! I decided to use a 5mm thick foam board and I bought some flat headed pins and masking tape. The idea being that you cut the foam board to size and then pin the work to one side (pushing the pins into the foam down into the board, so only the heads show along the top - See photo below), and then pull the opposite side tight and pin that and vice versa for the other two sides. Once it's all pinned in, you can adjust it in places to get rid of any rogue wrinkles and then you cut the fabric down with an inch worth of excess, fold the excess down (taking extra care to get the corners neat), and then masking tape the edges down to seal it.
Once I had this all done, I ordered my frame. I ordered from a seller on eBay who made frames to a custom size. I wanted to buy something bright and cheerful and a lot of framers don't carry quirky coloured stuff as it tends to not sell too well. I ordered a sunshine yellow frame (12"x12") and because it came by post, instead of glass it came with acrylic. I almost lost a finger peeling the protective acetate off of it though, it's deadly sharp! Luckily, I'd measured correctly again and here's the finished product!
Ready for it's new home with my friend Dan.
It was such a wonderful day, and it meant a lot to me to be able to give him something like this. Marking a day so special was incredibly important. So much work has been done over the last few years, and I know that it'll hang somewhere for years to come and that it'll be there to remind him (and me) of this time in our lives. Congratulations Dan!
Gratuitious graduation photographs!
Happy crafting everyone!!