Following on from my last few blog posts about Biscornu, it stands to reason that I should share with you all my absolute favourite patterns from Etsy.
Making a biscornu can be a little bit of a daunting task for those who've never done it before, but hopefully my blog post from last week has made it seem less so. (here)
I begin with a pattern from a lady who's work I have followed continuously for some time, it's designed by a lovely lady named Jody for her Etsy shop Satsuma Street. I've done about 3-4 of her patterns now and this will be the next one I do.
How lovely and fruity! I love the geometric style of this and all the colours...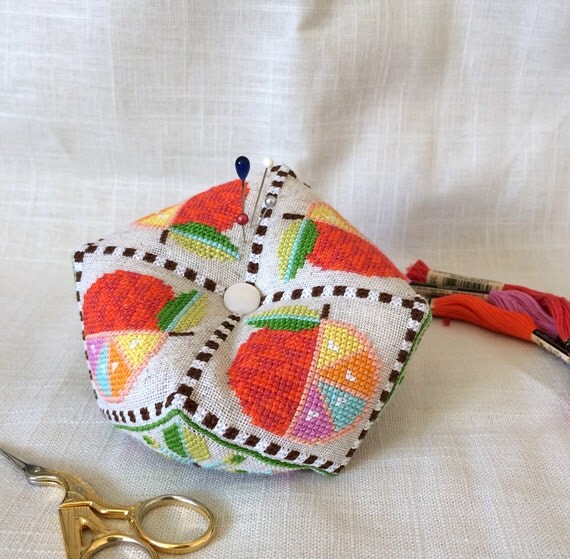 Jody has done this pattern on a beautiful light linen, and I'm a bit of a novice when it comes to fabric - I'm so comfortable on aida. It's safe and when you're daft like I am, counting that can be a enough of a struggle! Perhaps when I'm brave enough, I'll give it a go on linen. This pattern was going to be featured in Crafty magazine before it folded earlier this year, but luckily enough she was able to then sell the design on herself. You can buy it for £3.01 in here Etsy store here.
She also did the cutest Elephant Biscornu as well: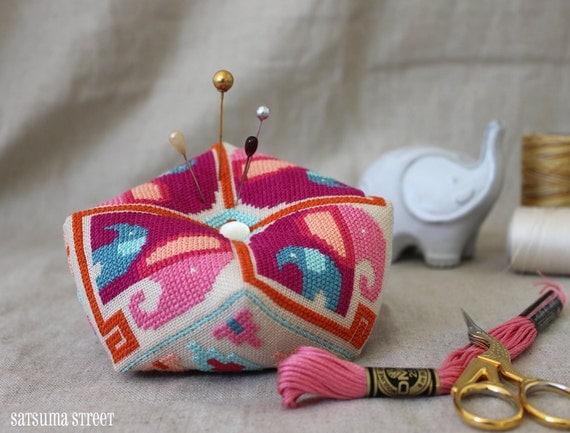 Honestly, If I made all of her patterns...I'd have nowhere to put anything! But this one has the loveliest elephants on one side and an american-indian esque pattern on the reverse. Having worked with her patterns many times before, I can definitely say that it'll be easy to read and follow and I know she attaches a guide on how to put them all together. You can buy this cutie here. Definitely have a scout around the #SatsumaStreet hashtag on Instagram, you'll see all sorts of variations on her patterns and may be lucky enough to come across my work.
The next biscornu pattern I found was this super cute retro cassette tape design from Tiny Modernist. Her Etsy store is full of loads of goodies from geekery, to retro and classic patterns with a twist. I simply love this! You can buy this pattern here.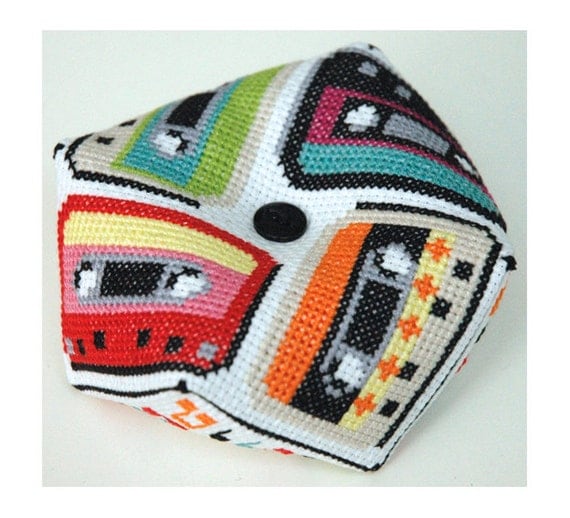 The lovely lady at Tiny Modernist has done some fantastic work, and there's a great range of patterns in her shop. Also, her facebook page is a wonderful place for free patterns! Here's another my biscornu favourites from Tiny Modernist; the Western Cactus biscornu.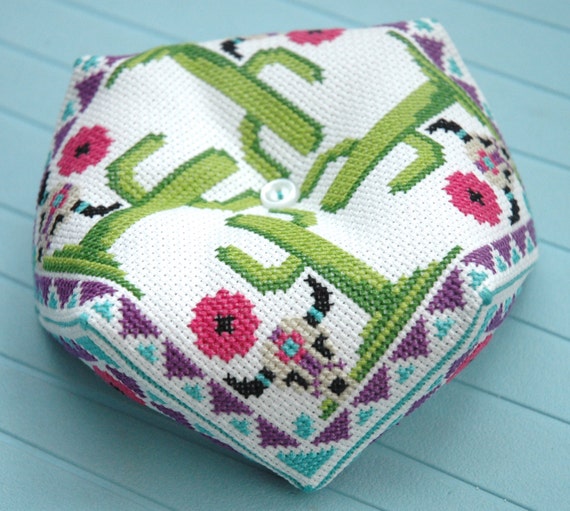 How sweet is this? It makes me want to eat nachos and fajitas just looking at it! You can buy this one here. Both patterns retail for £3.61 :) The Cassette tape one is smaller at 58x58 stitches, whilst the cactus one is nearly 50% larger at 75x75 stitches.
If only I had a reason to make all of these...I would!