Supporting independent pattern designers is something really important to me, and if it wasn't for Instagram or Etsy, finding independent patterns that are modern and funky would be especially complex. Whilst traditionalist patterns have their place, finding things to my taste wouldn't be possible without these resources.
Using social media has allowed me to find some really inspiring work, and I'm going to do a post a week about my favourite pattern finds, they'll either be featuring a specific persons work or perhaps a topic or price rage.
This week I'm looking at patterns £2 and under.
I begin with my favourite pattern in this price category by a lovely lady called Sami from Teasemade. She's a London based designer and you can visit her shop here.
My favourite is her "Why make do? Mend with every stitch" pattern (Link):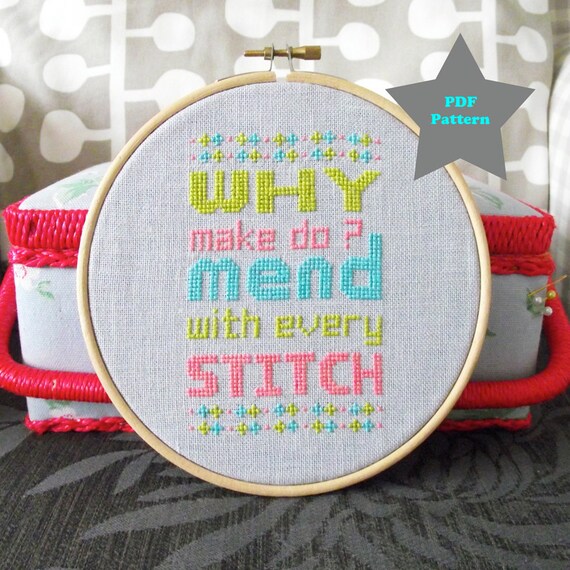 This pattern is bang on £2 and is perfect as a gift for any of your own crafty friends. And because it's a relatively simple pattern, changing the colours is a easy too. This pattern is
3.29in x 5.14in and is 46 x 72 stitches. It also comes in a blue, red and green colour way here.
Don't forget to check out the rest of her shop, her two birdy patterns are on my to do list!
Next I've chosen a really simple geometric pattern by a lovely little shop based in Florida called Palencia Grove. Alex has designed a series of really beautiful and colourful geometic patterns which remind me of Victorian tiles, as well as a few cute samplers based on cities and locations.
Again, there's a lot of flexibility with colour here. You could change the colourways to suit any decor. I really love this and I'm looking forward to seeing the her next designs. This pattern is a beastly £1.79 and is 4in x 4in consisting of 57 x 58 stitches. Alex has lovingly designed a few different ones like this, and they would be wonderful together in series. You can purchase this design here.
Next is this great floral design of the Great British Isles! This I found in a shop on Etsy called Olga Ritchie Art, and she's based here in the UK too. The only thing that's a shame is that she's not stitched the pattern herself and uploaded a photo of the finished product - and I'm always dubious of pattern makers who don't do this. How do you know if the pattern works or flows without trying it yourself first? Anyway, I think this pattern is pretty and cheap enough to take a chance on! What do you think?
The design area on this one is 7.6in x 10.6in or 107 x 149 stitches and retails for a princely £2. You can buy this pattern here.
There are some incredible designers on Etsy and it's a really great way to support these people and also a hell of a lot cheaper than the conventional kits people still buy.
What do you think? Who're your favourite independent designers?
*All measurements are given in inches and are assumed to be on 14count aida fabric*